Five Simple Steps to Start a Web Host Business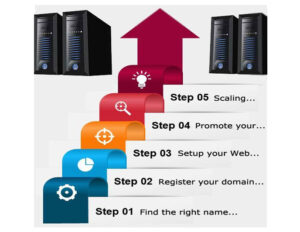 Web hosting companies provide basic services to clients that are required to start, run, and manage a website. Becoming a web hosting provider may seem like a daunting task, but we will guide you step-by-step on how to start your own web hosting company.
Step 1: Find the right name for your Company
Finding the right name for your company is vital because it can do more than connect you to your customers. A powerful and service-oriented name can be helpful in your marketing and branding efforts. Your brand name can give visitors a clue about your specific service, for example, names such as "GreenWebHosting" and "GetTnLineHot" give clues about the services and target audience.
Consider the following points while deciding your brand name.
The needs and expectations of your target audience. Words like 'get online', 'quick launch', etc. in your name can attract new startups that require quick-to-launch websites.
Your name should be unique, and the domain name should be available. The kind of web hosting is also important. You can provide shared hosting, VPS hosting, or dedicated server hosting. These are some types of web hosting that you can choose from, and your brand name may or may not reflect it.
Once you have decided on the name, do an Internet search of your name and make sure that someone else is not using that name. If it is already in use, take a pause and think again.
If you're convinced that a name matters, keep reading to learn about other important things.
Step 2: Register your domain name and decide on your Server provider
While domain registration, I recommend you give preference to .com or .net extensions over other alternatives. A domain is registered for a specific time, like a year or two. You must set a reminder for renewal as you may miss the date first and then the domain name.
Most providers start from scratch and choose reseller hosting or VPS hosting. Once they have built up a small customer base and have some insight into the web hosting industry, they scale up their services and investment. If you are a beginner, it is recommended not to start with a dedicated server and risk your money as it is an expensive option.
Not every web host is suitable for your business. It depends on your niche and customer requirements as to which type of host you should choose.
Tips for Finding the Right Web Hosting Provider for You
Cost-effectiveness and value for money. It should generate enough profit to keep you motivated and remain in the business for a long time.
24×7 dedicated support in case of server or network failure. Robust hardware like NVMe disk and SSD is great for VPS hosting. Get an unmanaged VPS plan that is overall cheaper than managed one.
Step 3: Setup your Website, Support, and Billing System
Create a website as the gateway to your company. You'll also need other features on your website before you can start selling your products.
Tips to set up Your website.
Keep it simple, easy to navigate, and have a user-friendly interface.
A clear, non-diverting, and conversion-friendly landing page is an essential part of a business website.
Create a home page that is a kind of central place of your whole website from where your customers can easily find links to other pages. A Home page is different from a landing page.
It is recommended you do on-page SEO of your whole website or at least important pages of the website.
Building an impressive Support System
A support system is an essential part that almost every client considers while choosing a new host or migrating from the existing one. Having a ticket system or live chat is not enough to impress and engage your clients. To impress others, you need videos on your website.
Even the major billing systems provide a separate Knowledge-base page inside their module because most of the customers don't like to open a ticket and wait for the response. If the website has video tutorials, the client can launch a video and get what they need in real time. No human interface is needed.
Even if your support team gives a solution to clients, they ask the team to perform the task. On the contrary, videos show step-by-step how to do a specific task. Watch a Demo video and see whether you like it more than text support.
Tips for building an effective support system
A self-help knowledgebase website with video tutorials and articles on the essential features of web hosting is a popular support system. And almost every big hosting Company uses video tutorials as a tool for their support system.
A Live Help Chat on the website makes the website come alive.
Responsive ticketing system.
Setting up Billing System
WHMCS, Blesta, and Hostbill are some of the well-recognized billing systems in the web hosting industry due to their features and simple interface. They can all integrate with popular payment gateways that you may use for receiving overseas payments.
Step 4: Promote your Website and track the progress.
Once your systems are all ready and tested, you can start promoting your business. Promotion is vital to reach more prospects and convert them into customers. Start by registering your website on forums, directories, and social media channels. Use how-to videos from your knowledgebase website to showcase the logo of your brand to those looking for tutorials on YouTube. Remember helping others is the best way to promote your product.
There are several ways to promote your business. Once you have exhausted one way, start working on an another way.
Tracking your website visitors.
It is also vital to track the progress of your website promotion plan. Which way is bearing more fruits than the other, and where do you need to put more effort? It's all revealed when you have the data.
You may lack confidence in SEO plans and software tools that ask you to insert code into your website, or you may not have the extra money to buy them. Whatever the reason is, don't worry, you have another legitimate and free method to track your progress. Although you need to discipline yourself, it works and your efforts pay off. Your billing software has a feature 'link tracking' and it is easy to use.
You can generate as many links as you want through the billing software that point to your website, and wherever you want to leave a link to your website, instead of leaving the website link, drop the generated link.
Now you can see the number of clicks, conversions, if any, from different link on different websites. This helps a lot, as you can build your strategy based on the tracked data.
Step 5: Scaling up your Services.
Keeping up with customer growth is essential for your business to grow.
Always remember that the customer is the king, so treat them as such.
If everything goes well, soon you may require expansion of your services.
Now you need to scale up your hardware and software and be careful that scaling doesn't bother your existing customers.
Stick to the fundamentals that helped you make your company stand out.
Best wishes for your effort!
About Post Author