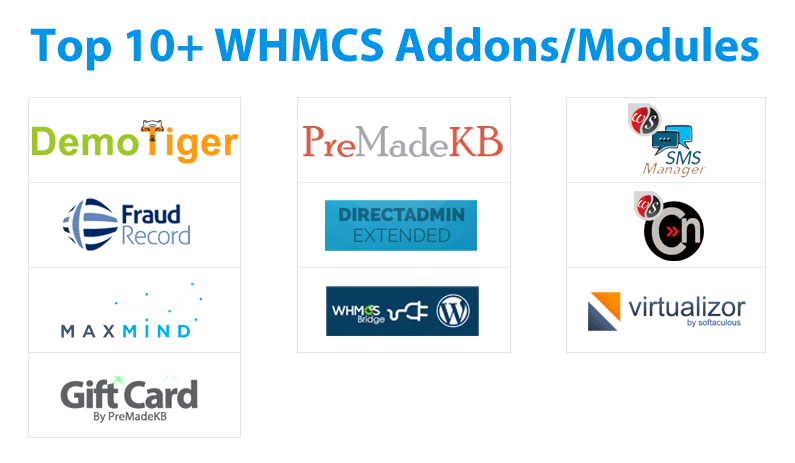 WHMCS Modules:
WHMCS modules increase your efficiency and boost your sales. As a businessman, you should have means that bring clients for you and save you time. Therefore you must have some of the modules as addons to your WHMCS. We have prepared a list of highly recommended free and paid WHMCS modules for you.
What is WHMCS?
WHMCS is an abbreviation for Web Host Manager Complete Solution. This is because WHMCS began as a control panel that enabled the automatic provisioning of cPanel web hosting accounts using the Web Host Manager control panel.

WHMCS is a full-featured client administration panel for web hosting. Its principal goal is to give web hosting companies with a cart system that can be connected to their websites, allowing visitors to purchase web hosting services.
WHMCS integrates with a wide range of web hosting servers and related applications so that when a client purchases a service on your site, WHMCS will collect a payment, create a user account for the client to manage their service, and automatically provision the web hosting account on the hosting server. This technique saves web hosting companies hours of tedious labour and simplifies customer onboarding.
WHMCS includes all the tools required for customer creation and administration, including:
• Customer service
• Reports
• Billing management
• Order Management
• Domain Registration
• Fraud Management
WHMCS is used for more than just creating cPanel accounts. It may also be used to automate provisioning on the following systems:
• Accounts VPN
• Servers for video games
• Virtual Private Server Hosting
• Domains
• Email Addresses
DemoTiger offers a library of high-quality 1080p and 720p video tutorials for Web Hosting companies. Professionals create videos with high-quality audio and text instructions to help web hosting customers. One may promote his business by including a customized logo of his company in each film of the series. Videos are available in various formats, including MP4 and WebM, and can be seen on various platforms, including YouTube, Vimeo, Twitter, a website, and a blog.
DemoTiger offers video tutorials for web hosting businesses. It is the most used and popular module, compatible with your WHMCS knowledge base. It may be beneficial to your company's growth.
The tutorials use the most modern iterations of cPanel, Direct Admin, Plesk Onyx, Mozilla Thunderbird, Outlook 2019, and FileZilla FTP Client.
The video series comes with installation instructions, and the following video series are available:
• cPanel Basics (26 Videos)
• DirectAdmin (48 Videos)
• Plesk Onyx (47 Videos) – Now Available!
• Databases (11 Videos)
• Domain Administration (10)
• Email (5)
• FTP (4)
• Mozilla Thunderbird (6)
• Outlook 2019 (6)
• FileZilla Client (5)
• Cloudflare (9)
• SolusVM (18)
• Virtualizor (19)
Each Video series includes one SQL file, or you may request video embed code and an installation guide. Video series are simple to incorporate into a website's knowledge-base/support without modifying the existing knowledge-base.
PreMadeKB offers ready-made and professionally written articles for your WHMCS and customers.
PreMadeKB – A ready-to-use text knowledge base. Both DemoTiger and PreMadeKB may be integrated, giving you video and text-based content.
This knowledge base can save you time. Assist you with SEO.
The articles are based on the most recent versions and are all up to date.
• cPanel
• WHM
• DirectAdmin
• InterWorx
• Softaculous
They now have 455 articles, 193 of which are about cPanel, eighteen about WHM, thirty-eight about DirectAdmin, sixty-two about InterWorx, and some about other applications.
Utilize v1.2 if you wish to use Theme X. If you are using the most recent cPanel PaperLantern theme, use v2.2.
KB v2.2 is for the cPanel "Paper Lantern" Theme.
PreMadeKB includes 455 professionally written articles, and installation/upgrade is simple.
On December 11, 2020, the revised version v2.2 was published – articles on Plesk Obsidian, CloudLinux, Virtualizor, Cloudflare, PayPal, and Outlook 2019 are now accessible.
WS SMS Manager
SMS Manager is a sophisticated SMS system that allows you to automatically send SMS messages to your clients in response to specific events, such as SMS for client login, SMS for a new invoice, SMS for a late invoice, and so on. This system also allows you to provide two-factor authentication to your customers and administrators, which will send a code to your clients'/admins' phones upon login. You will need to enter the provided code before proceeding to the client/admin area.
The SMS Manager provides several useful capabilities to many businesses that use WHMCS as their billing system.
FraudRecord
FraudRecord is a free service for online service providers such as hosting firms, online merchants, network providers, and other online businesses. It is intended to assist them in combining their expertise and combating unruly clients. Companies can report demanding clients to FraudRecord so that when the same client goes to another firm, the new company can use this service to review the history of the same client and respond appropriately.
FraudRecord can be used in two ways. One method is to utilize our website's administration panel to report and inquire about clients. This solution is helpful if your billing system does not support FraudRecord integration.
FraudRecord may also be linked to your client management system. This lets you instantly view the reports and generate new ones with only a single click.
In addition, the service offers a degree of misbehaviour, a level of report credibility, and specific information on the reported customer. If you query a customer using FraudRecord and find a match, you may examine the report and determine whether to take measures.
DirectAdmin Extended
Allow your clients to enjoy the ease of managing web hosting accounts that border. Accept the change that DirectAdmin Extended for WHMCS has brought about and alter your web hosting business now.
DirectAdmin Extended for WHMCS automates the provisioning of web hosting accounts while also enabling complete remote management. Customers will not have to leave your website since every extensively used DirectAdmin function will be available in the WHMCS client area.
The module will optimise all supervisory activities involving FTP accounts, files, databases, email accounts, backups, domains, DNS records, and other essential components. It also supports Let us Encrypt, so your clients can get basic SSL certificates with a single click. They will also be able to add, change, remove, backup, and restore hundreds of different online apps due to the built-in Softaculous and Installation program installers.
WS ClientNotification
Client Notifications enable you to deliver messages to specific clients or all your clients at once. Using this module, you can send a single message to specific or all clients. When members log in, they will see all the messages they have received on the top page. This is an excellent module for contacting certain clients, products, or groups.
Can deliver messages to particular clients Messages can be sent to all clients.
Messages may be sent to Product Groups, Addons, Product Tops, or Popup Notifications.
MaxMind
Another Fraud Detection Module. MaxMind offers IP intelligence under the GeoIP brand. Use in conjunction with the minFraud or GeoIP2 web services. MinFraud is a data return service that assists organizations in preventing online fraud by giving risk assessment and risk data on online transactions. Learn more about whether the minFraud service is appropriate for your business.
WHMCS Bridge
The WHMCS Bridge plugin connects your WHMCS support and billing software to WordPress, offering your clients a seamless and consistent user experience.
Thanks to the theme inheritance function, you no longer need to style your WHMCS installation; the integration guarantees that your WHMCS installation looks and feels like your WordPress site.
Virtualizor
Virtualizor is a robust web-based VPS Control Panel that allows users to install and administer virtual private servers with a single click. Virtualizor supports KVM, Xen, OpenVZ, Proxmox, Virtuozzo, LXC, and other virtualization technologies, as well as an hourly payment system.
Virtualizor facilitates the development of Virtual Machines from a remote location. When you accept the Order, WHMCS/Blesta may be set to build the VPS (Automatically or Manually). Modules are available for both systems. It is pretty simple to set them up. This module allows you to manage VPSs directly. The procedure is automated utilizing the Virtualizor API, which controls the required VPS on the server.
You will be able to create a gift code with a predetermined value. New customers who use your gift code and the mount will have it instantly added to their account, but they will not be able to use it until they add some money or purchase their first product. To prevent misuse, we created this functionality, and your client must have at least one transaction to utilize the gift card. When placing a purchase, consumers can provide a gift code. This module's primary function is to allow consumers to obtain the discounts you requested.
Conclusion
The WHMCS software package offers web hosting companies a customer administration, invoicing, and support interface. Hosting providers may save numerous hours by automating tedious operations with this solution, enabling you to focus on developing your business.
It offers a simple management interface for providing and managing client sign-up, service/server provisioning, maintenance, and support. WHMCS is ideal for resellers, agencies, and developers that want to streamline or grow their web-based enterprises.
About Post Author